Garnet Mimms was born in Memphis, Tennessee on August 11th of 1952. He is best known for being a member of The Jackson 5 and later the lead singer of his own band N'Sync.
Garnet Mimms is an American R&B singer and songwriter. She was born in the year of 1968 and has released many hit songs such as "I'm Every Woman" and "Upside Down". Garnet has also released three albums which include "The Day I Saw Your Face", "A Night to Remember", and "Love, Life, & Freedom". Her most recent album, "Garnet Mimms Live" is a live performance from her tour.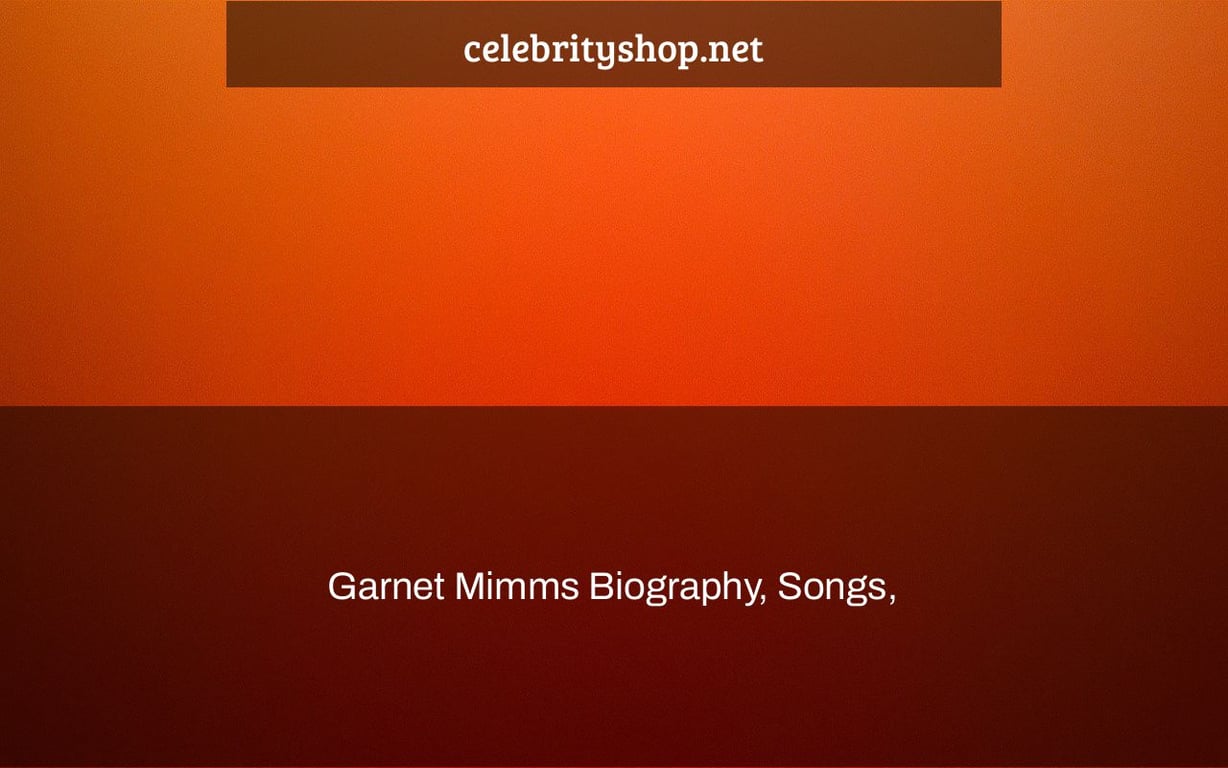 Garnet Mimms' plaintive, gospel-derived passion made him one of the first genuine soul singers, well remembered for his original version of "Cry Baby," subsequently a key item in Janis Joplin's repertoire. His legacy is unjustly underrated, since he never had another hit quite like "Cry Baby," but his early to mid-'60s work — a mix of uptown elegance and earthy, passionate vocals — has drawn parallels to Sam Cooke and Jackie Wilson among diehard soul fans. Garrett Mimms was born on November 26, 1933, in Ashland, West Virginia. He was born and reared in Philadelphia, where he started singing in church as a child. As a teenager, he sang with various local gospel groups, including the Evening Stars, the Harmonizing Four, and the Norfolk Four, with whom he recorded his first album in 1953.
Mimms went on to serve in the military for many years before returning to Philadelphia in 1958 to create the Gainors, a doo wop quintet that featured Sam Bell and onetime Evening Star Howard Tate (later an acclaimed solo singer in his own right). Over the following three years, the Gainors released singles for a variety of labels, including Red Top (later taken up by Cameo), Mercury (from 1959 to 1960), and Tally Ho (1961). After failing to create a hit, Mimms and Bell quit the group and formed Garnet Mimms & the Enchanters, which included Charles Boyer and Zola Pearnell. Philadelphia had become a sanctuary for adolescent idols thanks to Dick Clark's American Bandstand show, and Mimms moved his band to New York in 1963 in pursuit of a more receptive environment. They met Bert Berns, a songwriter/producer who signed them to United Artists and paired them with Jerry Ragovoy, another songwriter/producer.
Mimms' proto-soul rendition of "Cry Baby," a blockbuster song that entered the pop Top Five and topped the R&B charts in 1963, soon made him a star. Later that year, the follow-up, a version of Jerry Butler & the Impressions' "For Your Precious Love," as well as the flip side, "Baby Don't You Weep," both reached the pop Top 40. In 1964, Mimms and the Enchanters split up; the group went on to record independently with a new lead singer, while Mimms continued to make solo sides for UA over the following several years. Ragovoy's productions grew more refined, reflecting the change in R&B led by Motown, but Mimms' vocals maintained all of the fire of his gospel upbringing, resulting in an unusual mix for the period. Minor successes like "It Was Easier to Hurt Her" and "I'll Take Good Care of You" (Mimms' final Top 40 hit in 1966) didn't sell nearly as much as their quality suggested. In 1967, he was transferred to United Artists' Veep division, where "My Baby" was yet another incomprehensible failure (it, too, was later covered by Janis Joplin on Pearl).
Mimms then followed Ragovoy to Verve, where he released four singles to little acclaim, and then to MGM for a short stay. In 1977, Mimms had one final small chart entry as Garnet Mimms & the Truckin' Company, recording for Arista and producing the disco-funk song "What It Is," which was produced by Brass Construction genius Randy Muller. Mimms left the music industry for good after becoming a born-again Christian.
Watch This Video-
Related Tags
garnet mimms youtube
garnet mimms discogs